Many things drive businesses, and they each have their place in life and business culture. What drives your business? Is it money or ego? Perhaps it's providing for your family or leaving a legacy. What about impact or making the world a better place? Maybe your business is faith driven. Here's a better question: Who ever said it should only be one of those?
I believe your business should be a juggernaut. We all probably have a sense of what that word is/means, but let me define it.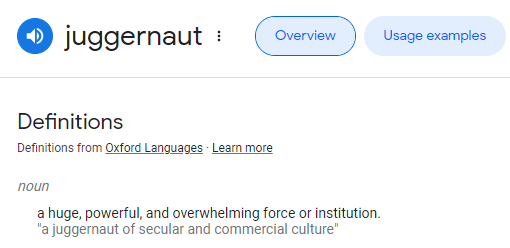 Shouldn't we want our business to be "a huge, powerful, and overwhelming force"?
I do! *raising my hand*
How do we go from our current state to juggernaut status? It begins by combining drivers. Money is a tool, and money enables business owners to employ people, pay them well, provide benefits, and fund their purpose as well as enjoy life outside of work. As for ego, there is nothing wrong with wanting to build something worthy of admiration, something of which you can be proud. Our families are a key motivator for many of us. We can use that to add fuel to the fire, especially when also considering what we leave behind after we are gone. Impact-driven businesses are all the rage, and there is good reason for that. Wanting to have positive impact in the world is great, but it can be bolstered by all the other drivers. And for those of faith, aligning all of these drivers with God's will and his purpose for your life and your business helps to ensure that your juggernaut really is unstoppable.
Build a Juggernaut Business™. Begin with a Godly perspective, and determine what He wants you to do with His business that you run. What impact does He want you to have through the business? Intend to create wealth (for yourself and others) IN ORDER TO benefit your family now and later AND to benefit the world. Be proud of your business, whatever its growth stage at the moment.
Practically speaking there are a few steps you can take right now to get your Juggernaut Business™ moving forward, building momentum.
Realize the urgency. Time is the one, truly scarce resource. If you do not take action now, you have squandered another opportunity. God is good, and He offers many opportunities. Right now, today is your next one. Don't waste it.
Know what drives you, your motivation, your Juggernaut's fuel. If you have not determined your higher purpose in life and the higher purpose for your business, get on that now. If you need help, check out Chazown by Craig Groeschel. Or for a more brief approach, you can get the πNautilus Guide for Personal Navigation. For your business, I have the iNautilus Guide for Organizational Navigation, or you can schedule a free strategy session with me any time.
Ensure your business is running smoothly. This is the engine of your Juggernaut. It needs to be tuned up and ready to go. Are your sales on track? Do you have the right people in the right roles? Are operations clean and efficient? Do you need a consultant?
Choose a destination. Set your sights on the future. This is so crucial; I cannot overemphasize the importance of an Ideal Destination. It's what my coaching program is centered around. If you do not have a clear, aligned, and STATED Ideal Destination, then stop everything else and figure that out. If you want some expertise in working through that plan, my iNautilus Admiral™ Program may be just the thing for you.
Communicate your Ideal Destination clearly and often to your team, your mentors, your people. Not only will this help solidify it in your mind, but you will get valuable feedback, and inspire people to help you get there.
Urgency + the right group of people + a powerful vision + a megaphone + momentum = Juggernaut Business™. It's time to become unstoppable.