March 2022 – "Propellers™"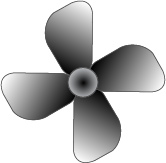 I skipped the newsletter in February. I did not forget; it was on my to-do list, but I simply never got that far down my list. Prioritization is a good thing, but it should always be fully aligned with your plan or strategy.
You have to know what's important to you in order to discern your "why". When you are clear on values and purpose, you get to choose an Ideal Destination and create a plan to arrive there. Along the way you should have goals and action plans, all getting you incrementally closer to that Ideal Destination. It's crucial to be intentional about working toward your goals every day. What that means is that every day there are one or two tasks that you should be completing (or devoting significant time to completing). Steven Covey would call these your "Big Rocks". I call them your Propellers™.
When you proactively work on your Propellers™, you are helping to bring your Ideal Destination into reality. Without this concerted effort, your "plans" are really just dreams and are likely to remain that way.
For me, in the last couple of months, my Propellers™ have been the classes I'm teaching at Valparaiso University as an adjunct professor, client work (in particular, a program for an employee training day at a local credit union), and finalizing my contribution to the new book that will be released in the next few days.
As important as consistent content is to my business, the newsletter simply did not make it to the top of the list. Sorry, not sorry. 🙂 Now that 2 of those 3 big items are behind me, I'm able to shift my attention back to the newsletter and other things.
For you, I have resources available to help you identify your Propeller™ and ensure it will remain your priority for the day. The Vector Modeling Daily Worksheet is available for free on my website (along with instructions and an example). Get it. Use it. Take one more step towards reaching your Ideal Destination!
And while you're on my site, PRE-ORDER your copy of my latest book, Cracking the Rich Code which features Jim Britt and Kevin Harrington in addition to myself and several other authors. Furthermore, the series is endorsed by none other than Tony Robbins!